Downloads for Psalm Settings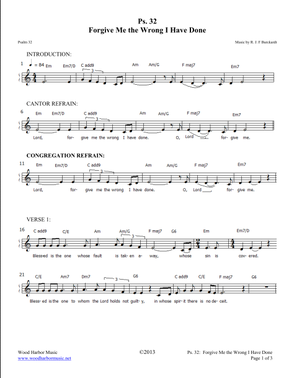 Presently, I have over 30 settings of the psalms, adaptable for liturgical or worship use, and it is my hope that you may find them adaptable for your use. A full list is available on my
Psalm Settings blog page
. Most settings are suitable (or adaptable) as responsorial psalms for the Liturgy of the Word. Many are based on the selected refrain and verses as they appear in the Lectionary. In some cases, I have multiple versions of the same psalm, each with a different refrain matching the texts in the Lectionary.
For those psalms listed below, you can directly download sheet music.
The conditions for the free downloads is that the settings be used only for worship or other non-profit uses, with attribution of the composer and copyright included in printed versions. Also, it would be nice to know who might be using the music, so let me know by e-mail.
For any psalm not listed below, the sheet music can be
ordered by e-mail
.
---
---
---

---

---

Composed by R. J. F. Burckardt & Jason Villarreal
A capella with bass cantor and SATB choir
Video on YouTube

---

Ps. 32 Forgive Me the Wrong Download Sheet Music
"Lord, forgive me the wrong I have done. O Lord, forgive me."
Composed by R. J. F. Burckardt
For Cantor, unison choir, with piano, guitar, bass
Video on YouTube

Ps. 85 Let Us See Your Kindness Download Sheet Music

"Let us see your kindness, and grant us your salvation."

Composed by R. J. F. Burckardt
or Cantor, unison choir, with piano, guitar, bass

---

---

Ps. 145 The Lord is Near Download Sheet Music

"Let us see your kindness, and grant us your salvation."

Composed by R. J. F. Burckardt For Cantor, unison choir, with piano, guitar, bass

---

Ps. 145 I Will Praise Your Name Download Sheet Music

"I will praise your name my king and God. I will praise your name forever."

Composed by R. J. F. Burckardt For Cantor, unison choir, with piano, guitar, bass